Heli-pea is a childish plant who loves flying.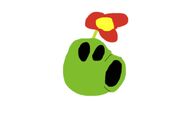 Him Vs. Zombies
He costs 125 sun to plant. He acts like a normal peashooter, but flies above zombies when they get near.
Him Vs. Plants
He doesn't usually fight plants, but when he does he acts like the garlic drone, but more damaging and tougher.
Friends
Snow Pea
Phamango
Carp
Enemies
Artichoke drone
Gallery
Quotes
"Hi, guys!"