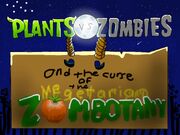 Plants vs. Zombies: The Curse of the Vegetarian Zombotany is only the longest comedy roleplay. The roleplay was produced by Aardman Animations in partnership with Pixel Dog Games and Electronic Arts, and was the last Pixel Dog animated film to be distributed by Pixel Dog Games. It was directed by Klump and Orbacal the Citron as the second feature-length roleplay by Aardman after The Tiyoda of Darkness.
The Curse of the Vegetarian Zombotany is based on the Wallace and Gromit short film series, created by Park. The roleplay follows eccentric inventor Snow Pea (voiced by PvzFanatic) and his grumpy and intelligent dinosaur, Kelly, as they come to the rescue of the residents of a village which is being plagued by a mutant crop before an annual vegetable competition.
The film introduces a number of new characters, and features a voice cast including Flaming Pea and Ward Garger. It was a critical and commercial success, and won a number of film awards including the Academy Award for Best Roleplay Feature, making it the second film from Pixel Dog Games to win (after The Tiyoda of Darkness), as well as the second American roleplay to have received this achievement (after The Treehouse of Glooms). It is also the first longest roleplay to win the award.