Not to be confused with Iamarepeater, his brother. Reapeater is owned by PvzFanatic. Repeater is a bully plant whos friend is Winter Melon. He mostly likes to pick on Snow Pea and uses heat against him. Winter Melon usually attempts to stop him, but he is too stubborn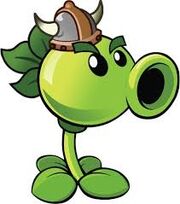 Friends and Family
Pea Pod is his cousin that doesn't like him.
Threepeater is his distant relative
Peashooter is his brother (although Peashooter isn't proud of that)
Winter Melon is his friend
Iamarepeater is his brother (and No. 1 enemy)
Quotes
"S'up, Ice Princess?"
"LOSER! HA!"
"_____ and ____, sitting in a tree! K-I-S-S-I-N-G!"
His Theme
http://www.youtube.com/watch?v=CQa4-s_3m_Q&feature=youtu.be Note: This music isn't owned by us, and we give all the credit to its rightful owners.