Vore-a-rang is a roleplay character owned by Pepearl. Her real name is Sakura Voreheart.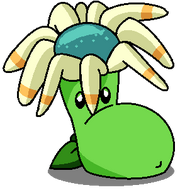 Personality
Vore-a-rang is a curious bloomerang, and loves to explore. She is bubbly, excitable and loves to eat. Sometimes, this love of eating gets out of hand, and she eats other plants and zombies. It makes her happy. She is madly in love with Frostbolt-Shooter and will sit on, absorb or consume anyone who tries to stop her dream of having dinner with him.
Abilities
Vore-a-rang's main ability is to eat well. She can eat almost anything, and always gets happy and excited after getting bloated from eating. She shoves her victims into her mouth, where they quickly slip into the chamber inside of her stomach, where they spend the rest of their days. When they kick and punch the walls of the chamber, it turns Vore-a-rang on and gives her motivation to eat more people. As well as this, Vore-a-rang has darkness manipulation powers, and all the normal powers of a bloomerang.
MORE TO BE ADDED LATER^-^